Drug store products tend to be underrated, especially with all the hype surrounding higher end beauty items. Yes, we love our Chanel, NARS, and Bobbi Brown but sometimes drug store brands do the trick. Here are our tried & true loves:
MAYBELLINE the Falsies volum' express
For me, this mascara works just as well as any high-end one. The curved brush makes it easy to use, and it reaches every lash. It really does give great volume and lengthens as well.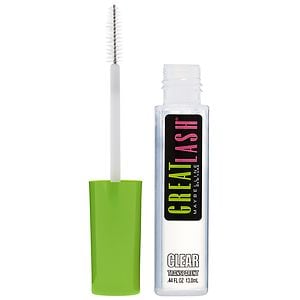 MAYBELLINE great lash clear mascara
I actually use this mascara on my eyebrows! I think I inherited unruly eyebrows from my dad. Nice. This product works well for keeping eyebrow hairs under control.
ST. IVES apricot scrub
I use this about three times a week to give my skin a deep clean. To make my life just a little bit easier, I apply this scrub in the shower. St. Ives is an amazing brand, in general. I always look out for when their products are on sale in CVS!
JUST THE BASICS facial towelettes
Just discovered these babies! At only $3.19, they're super affordable. I usually stay away from drug store makeover removers because they never work as well as the high end brands. Also, my eyes are sensitive so most drug store products burn them. They're great for removing all kinds of makeup (including foundation and concealer), and they don't sting my eyes!
E.L.F. Eye Shadow Brush
I had to give e.l.f. brushes a try and I must say they do not disappoint. And at $1, who can resist?! Quality wise, you get what you pay for. It isn't the softest brush but it works as a great crease brush.
JK by JEMMA KIDD eyeshadow
Jemma Kidd's cosmetic line in Target is AWESOME. Not only are the shadows finely milled, but the color is rich and smooth. Apply this with the Urban Decay Eyeshadow Primer and you'll be set!
No.7 Soft and Sheer Tinted Moisturiser
Hypo-allergenic, light weight, tinted, and equipped with SPF 15. This is probably my favorite Boots product. I use it as a base before applying my foundation and it works perfectly as a primer.
No.7 4-in-1 Makeup Remover Wipes
Another Boots product that I swear by. Self-explanatory make-up remover that gets the job done in one wipe and even removes waterproof mascara!